INSTRUCTIONS
AngryMama™
Remove AngryMama's hair by twisting anti-clockwise and lifting it off, then removing her head. 
Add vinegar first and water second to the two fill-marks shown at the back of her neck.
Replace her head and hair onto the body and place in the center of the microwave oven.
Microwave for 7 minutes.
Allow to stand for 2 minutes to cool off.
Remove AngryMama by her arms. DO NOT grab her anywhere else on her body as she will still be hot.
CAUTION: Hot liquid! Handle with care!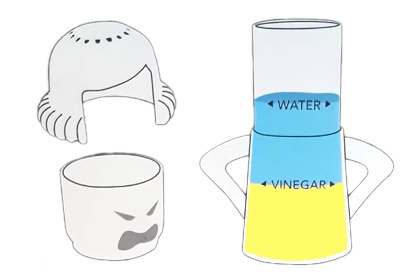 CoolMama™
Remove CoolMama's hair and head from her body.

Fill her to fill-mark with baking soda.

Replace CoolMama's head and hair onto the body.

Place CoolMama in the fridge or freezer.

CoolMama works for months to keep your fridge fresh – the average time being between 1-3 months. Time can vary depending on the size and contents of your fridge. Once you start feeling the odors again simply refill her with fresh baking soda.
NOTE:
Ensure AngryMama's hair is secure before use. Her hair maintains a pressure, which also helps from splashbacks and eruption.

AngryMama and CoolMama are reusable and dishwasher safe.

Care instructions: To clean AngryMama and CoolMama, wash with soapy water or just place in your dishwasher's top rack.

Both AngryMama and CoolMama and made out of recyclable Polypropylene.
TIPS:
Alternatively, for easier use, you can lift her head instead of removing it.

The remaining liquid inside AngryMama could be applied to a cleaning cloth to wipe the microwave.

Customers' tip: add a squeeze of lemon juice or essence for a pleasant odor.
WARNING: DO NOT OVERFILL OR UNDERFILL AS THIS MAY DAMAGE THE MICROWAVE!
In the case of any question please feel free to contact us by clicking HERE, or write us an email on support@angrymama.co.